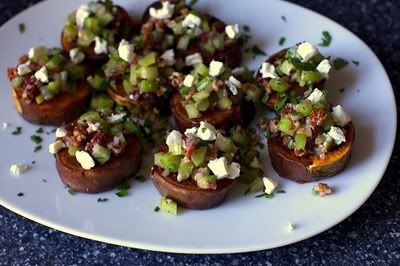 (Image via Smitten Kitchen)
Get your drawstring pants ready because we are officially one day away from Thanksgiving!
Claudia, Lisa Michelle and I will be heading to our
parent's
house in Queens to mark the holiday with a lavish dinner cooked by our
Mom
. The girls and I plan on bringing a few hors d'oeuvres to get the party started, and I think I finally found what I will make:
sweet potatoes with pecans and goat cheese
(pictured above). Don't they look drool worthy? I'm sure the festivities will be followed by food coma and great conversation, my favorite part of holiday dinners. ;)
How will you celebrate your Thanksgiving? We would love to know!
This will be our last post for the weekend. We hope you all have a lovely holiday and can't wait to see you again Monday!
And! as always, link time...
You still have time! Last minute Thanksgiving recipes (c/o Martha Stewart)Seven Black Friday sales. Best of luck to those brave enough! (c/o NY Mag)For those unruly hair days, 6 great hairstyles for hats (c/o Refinery 29)
Gift ideas from ten tastemakers (c/o Style.com)I want these! Embroidered Silk Hot Pants (c/o Polyvore)
Happy Thanksgiving! xoxo