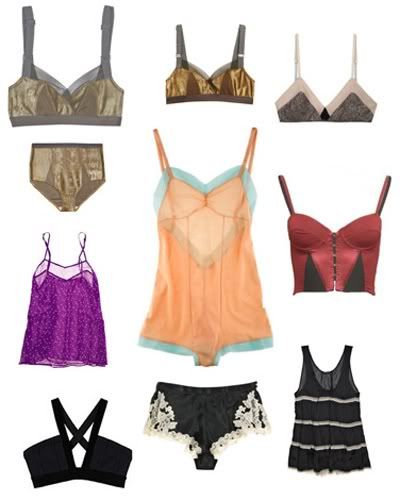 Clockwise from top left:
VPL Liquid Jersey Bra
;
VPL Disjoin Bra
;
3.1 Phillip Lim Printed Diamond Bralette
;
Clare Tough Bustier
;
Kiki De Montparnasse Camisole
;
La Perla Maison Silk Shorts
;
T by Alexander Wang
;
Stella McCartney Teddy
;
VPL Liquid Jersey Briefs
;
Araks Lily Teddy (center)
While my lovely sisters are basking in
Miami sun and art
, I'm here in New York bundling up for the chilly days that have greeted us. As a New Yorker and lover of pretty things, I'll admit it can be difficult to feel feminine while wearing layers upon layers of sweaters and puffy jackets that make me look like
this
. My solution to my sexy-less woes: wearing ultra-feminine under garments throughout the season that will keep me in touch with my lady side! The center
Araks Lily Teddy
has to be my favorite!
How do you treat yourself on those frumpy feeling days?
As always, some fun links from around the web!
Countdown to Black Swan starring Natalie Portman and Mila Kunis (Vanity Fair)
Crushing on a Young, Handsome Stephen Colbert (via NY Mag)
Keep holiday stress in check! (via Self)
How about a warm holiday? America's 10 Best Winter Beach Resorts
(Budget Travel)
Wow.
(Jak & Jil)
I want these beautiful illustrations! (via AnOther Magazine)
Have a lovely weekend. :) xoxo