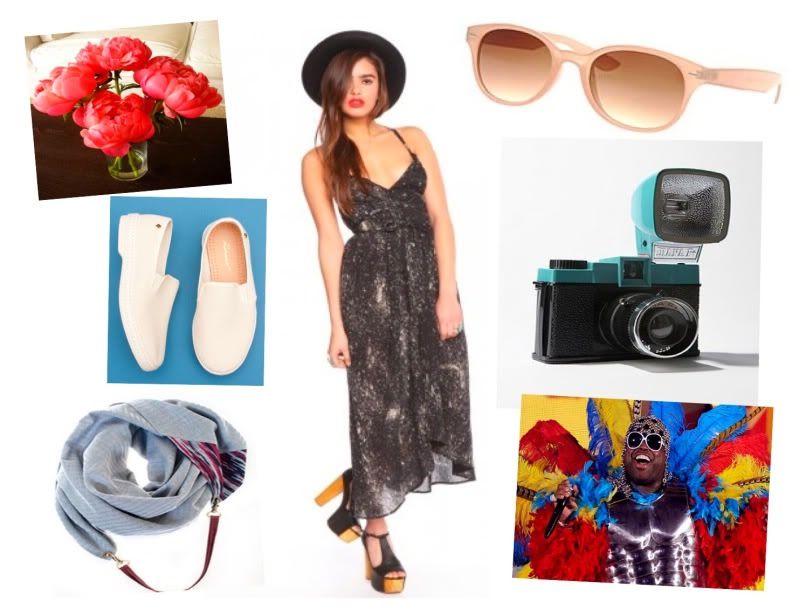 How I'm getting pumped for spring (clockwise from top-left):
Peonies, the official spring time flower that will adorn my home; ASOS Nude Round Retro Sunglasses; Borrowing Lisa's Diana F+ Camera for trips to Coney Island; Listening to Cee Lo's new album during my resolution to run outside; Parker Scarf that doubles as a purse for trips to the Farmers Market; Rivieras Leisure shoes, cause they're awesome; center: Galaxy dress for some outdoor concerts.
For the past few weeks, New Yorkers have been occasionally teased with days of spring weather only to be followed by days of dreaded snow and rain (not cool, Mother Nature.) But on the those rare days, I get totally besides myself and go nuts online shopping for springy outfits. I think my weekend will include rummaging through my closet and cherry picking what's gotta go to bring in the new!
Link time!
Mark your calendar! The Novogratz family is
back
on April 5th.
Cute
video
by the High Highs. Will make you ♥ NY.
Wanted:
crystal stud earrings
.
Root vegetable carpaccio
. Delish.
Thom Yorke
dancing
to Beyonce's Single Ladies (Lisa and I thought this was real!)
Off to Miami next month. Love this
VPL swimwear
line!
I need a
pantsuit
.
Have a dreamy weekend! xx